Highsun Fabric Market
Guangzhou Highsun Fabric Market---where you can pick the material you want and get custom made shirts, business suits, bedding and curtains for a tenth of the cost that you would get in most western countries. You can get fabric of sundry materials and various patterns with different grades of quality.
Industry: Shirts, business suits, bedding, curtains, fabric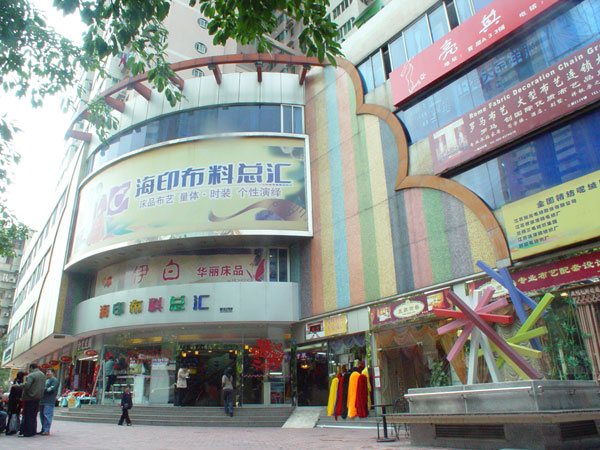 Zhongda Fabric Market
Zhongda Fabric Market includes 4 different Zones: Fabric Zone, Fur zone, Support material Zone and Curtain/home-textile Zone. You could find any kind of fabric(warp, weft knitting fabric or weaving fabric of any material) for any kind of clothes or home-textile there. Moreover, lace, ribbon, embroidery, braid, elastic belt, bra cup, button, ironing diamond or small hardware for clothes could be found as well. It is a good choice to low your fabric cost. Many booths display out their products, and more competition, more price discount.
It is leading the fashion trend of garment fabrics. The commercial city covers nearly 50,000 sq.m., with more than 1000 brand traders.
Main fabrics:silk, cotton, colored fabric, fabric for men's garments, satin, chemical fabric, fabric for wedding dress, jean, lining, plush, flocking, etc.
Main accessories:fur, paillette, lace, button, garment trademark, etc.
Industry: fabric, lace,ribbon, embroidery,braid,elastic belt, bra, button, fur products, curtain, home textile items, knitting fabric